You save more money at Irish Hills Collision & Service
We get it; having your car worked on is a hassle. Then, to come up with the funds to pay your deductible too – well that's just about akin to rubbing salt in a fresh wound. At Irish Hills Collision & Service, we understand the headaches and inconvenience car repairs puts on your schedule and your finances. That's why we offer Deductible Assistance* for our collision customers. We happily pay up to $500 towards your deductible obligation (up to 10% of total repair estimate). If you don't have a deductible, then you have the option of applying it towards the expense of a rental car.
For example, your collision estimate comes to $4,300. We would be able to assist with up to $430.00 (10% of the repair estimate – not including tow fees or deductibles.) You have the option of applying that money towards your deductible, or use it towards an Enterprise rental car.
We won't let you shoulder the burden alone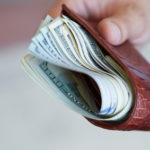 Why do we offer deductible assistance? It goes back to our roots of being a 2nd generation family operated business and our belief of helping neighbors when we can. Being an independent repair shop, we don't have the national support of a brand-name dealership. So we work twice as hard to delight you and earn your repeat collision and auto service business. We want you back on the road with confidence in your car, and with the least amount of interruptions to your life and pocketbook.
Come see for yourself why people from all over south-central Michigan bring their repairs to Irish Hills Collision & Service.  We're proud of the extra value you receive from our deductible assistance.
*Some exclusions apply. Ask your Estimator for details.