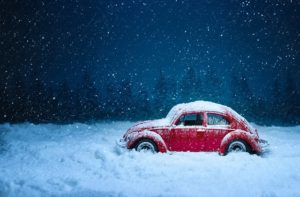 Driving in cold-weather could be a competitive sport – at least in our area. With deep wet snow, ice, extreme wind chill temperatures and gusty tundra-like winds, it makes good sense to prepare for change in driving conditions. Follow these cold-weather driving tips to improve your travel experience throughout the winter.
Even though fall is over, deer are still active even during the winter months. Deer often travel along tree lines and in drainage ditches; and being creatures of habit – they'll travel those routes year after year. When you see one deer, slow down; they travel in groups and there may be more following.
Always wear your seat-belt; the odds of surviving a crash without great injury or death are two to three times greater when wearing a seat-belt.
Cold temperatures put added stress on your battery, particularly if you park outdoors. Come in and we'll perform a voltage load test.
With the potential for freezing rain, sleet and icy snow, a great pair of wiper blades is a meaningful investment.
Antifreeze helps lower the freezing temperature of the water in your radiator, which helps prevent freezing in cold weather. If you haven't done so in a while, consider replacing the coolant.
Tires lose approximately 1 pound of pressure for every 10-degrees Fahrenheit drop in temperature. Visit us and we'll check the air pressure and valve stems of your tires. Also, rotating tires to get the best tires forward is also a smart idea. Did you know we sell tires? We have a huge assortment to choose from, including national name brands! Check out our tire rebate page for current deals on tires.
Have your brakes inspected. Dust shields behind the rotors help keep out road debris (think salt and sand) and help prolong the life of your rotors. We can check the amount of brake fluid in the reservoir, and measure the thickness of the brake pads so you understand how much stopping material you have left on your brakes.
Keep an emergency kit accessible in the vehicle. Basics include a blanket, flashlight, first-aid kit, ice scraper, jumper cables and a snow brush. If space isn't an issue, consider adding a change of clothes, snacks and flashlight batteries.